Open now your exclusive account to trade with 0 pips spreads and leverage up to 500:1
There's a lot of intermarket correlations to remember so let's do a quick recap.
The price action of currencies is often driven by their relationship with commodities, bonds, and stock indices.
Here's a neat one-page cheat sheet for you to bookmark and make it easy for you!
| If | Then | Why |
| --- | --- | --- |
| Gold | USD | During times of economic unrest, investors tend to dump the dollar in favor of gold. Unlike other assets, gold maintains its intrinsic value. |
| Gold | AUD/USD | Australia is the third biggest gold producer in the world, sailing out about $5 billion worth a year. |
| Gold | NZD/USD | New Zealand (rank 25) is also a large producer of gold. |
| Gold | USD/CHF | Over 25% of Switzerland's reserves are backed by gold. As gold prices go up, the pair moves down (CHF is bought). |
| Gold | USD/CAD | Canada is the 5th largest producer of gold in the world. As gold price goes up, the pair tends to move down (CAD is bought). |
| Oil | USD/CAD | Canada is one of the top oil producers in the world. It exports around 2 million barrels of oil a day to the U.S. As oil prices go up, the pair moves down. |
| Gold | EUR/USD | Since both gold and euro are considered "anti-dollars," if the price of gold goes up, EUR/USD may go up as well. |
| Bond yields | Local Currency | An economy that offers higher returns on its bonds attract more investments. This makes its local currency more attractive than that of another economy offering lower returns on its bonds. |
| Dow | Nikkei | The performance of the U.S. economy is closely tied with Japan. |
| Nikkei | USD/JPY | Investors consider the yen as a safe-haven and tend to seek it during periods of economic distress. |
Intermarket Analysis Cheat Sheet
有许多市场之间的关联信息需要记忆,下面我们就来快速回顾一下吧。
货币的价格行为受到它们与商品、债券和股指之间关系的影响。
你可将下边这页简洁的表格当作书签好好利用。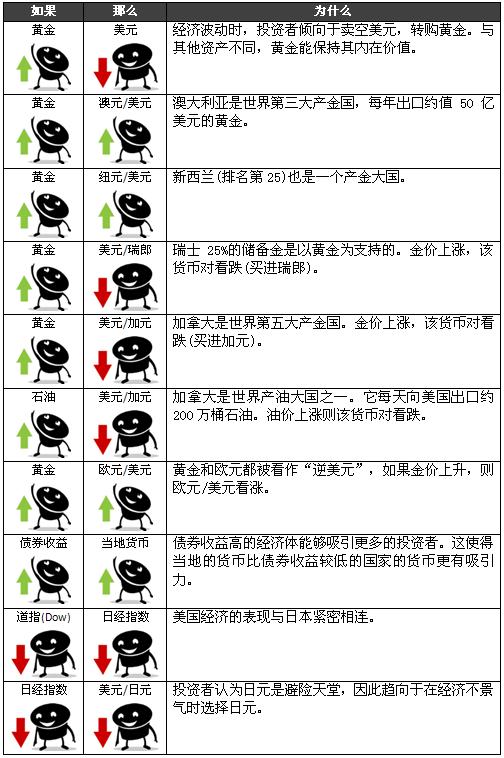 Try now a free demo or open a live account with the world's best brokers (we advise to work with one of these regulated veterans in the industry)
BEST BROKERS by Spread, Leverage, and speed of withdraws:
Try now a free demo or open a live account with the world's best brokers (we advise to work with one of these regulated veterans in the industry)
BEST BROKERS by Spread, Leverage, and speed of withdraws: